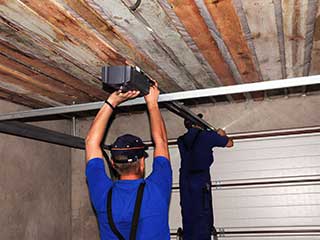 It takes a professional technician to repair garage door problems without compromising the safety of any nearby person. Aside from using special tools when replacing snapped cables and damaged panels, our experts at Garage Door Repair Jupiter rely on another important factor - their experience.
Veteran Service Technicians
Our team has been operating in this field for well over a decade and a half now, and we have dealt with virtually every type of potential problem your garage door may suffer from. Whether a force and travel limit adjustment is required, or some spring lubrication or even a new door installation, you can rest assured that our specialists can perform the necessary service with great skill and without compromising safety in favor of speed.
Replacing Damaged Parts
Because garage doors are intricate electro-mechanical systems that operate under a tremendous amount of stress on a daily basis, some of their components are bound to eventually fail. Broken extension springs and safety cables are some of the most common issues homeowners end up facing. Without proper maintenance, many people can return home one day to find that their door got off track and the panels are either just hanging loose, or are about to collapse.
Safety Is Crucial
We highly advise against trying to take care of any malfunctioning part on your own. Practically every part of your overhead door can be dangerous when mishandled, which is why any necessary garage door repairs should only be performed by professional technicians with a lot of experience to rely on. The risks are simply not worth it. Not with our affordable working rates.
We're Here For You
Our service men and women are the ones to call when something goes wrong with your system. But that's not all we do. When it comes to garage door installation, there's simply no one better. We'll be more than happy to help you find the perfect model for your home, and our experts will gladly advise you on what new technological features you may want to consider. Call us today to get the best professional assistance around.
You can also count on us for:
Extension Spring Adjustment
Broken Garage Door Spring Replacement
Opener Sensor Replacement
Garage Door Tune Up Services